Marvel Hero T-Shirts for Hero Moms
Find the perfect Mother's Day gift for moms who are fans of Marvel superheroes! Give your own personal hero the gift she wants and deserves. Reminder: in 2021, Mother's Day is May 9th. Here are some fun choices.
This fun t-shirt reads Most Amazing Mom in all capital letters. The letters in MOM are filled with Spider-Man iconography and red flowers. Get this bold design in black as shown; white and dark heather grey are also available.
A comic image of She-Hulk is the focus of this graphic Marvel character tee. The pro-mom slogan uses bold white letters. Get this in baby blue as shown or pick from several other colors to best suit mom's style.
This cute cartoon style shirt features kawaii drawings of heroes Iron Man, the Hulk, Thor, and Captain America. The heroes are framed with bold blue text that reads SUPER MOM. Get this in black as shown or choose a different shirt color, including pink or white.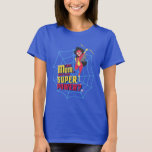 This slogan shirt for Mother's Day reads "I'm a mom, what's your super power?" using all capital letters in red and yellow. The image is accompanied by a comic style image of the Marvel comic character Spider-Woman.
This fun shirt reads simply "Incredible Mom" using all capital letters in green. The word MOM uses the Hulk fist icon in the middle and is filled in with purple and green flowers. This design looks great on the Forest Green ladies' v-neck as shown; you can also purchase this top in heather grey or purple.