Pride Month Gear for Marvel Fans
In June we celebrate Pride Month. LGBT pride is celebrated this month especially as a nod to the Stonewall Riots of June 1969. The riots were uprisings that occurred following a police raid at the Stonewall Inn, a gay bar, in Manhattan.
Pride Month gear has become a routine offering from many brands and companies during and around June. Marvel fans can show their fandom and share their pride with officially licensed apparel, souvenirs, and gear featuring their favorite characters and MCU themes along with Pride Month icons and slogans. Here are a few favorites for 2023.
On this fun black t-shirt for Pride month, the word PRIDE is before a rainbow background, with small "sticker" like images from the MCU (Marvel Cinematic Universe) all around. These icons include the Avengers logo, a "Love for All" slogan, and the iconic Marvel logo in rainbow stripes. The color stripes for the Transgender Pride (blue, pink, white) flag and Nonbinary Pride (yellow, white, purple, black) flags are also featured below the main image.
Classic Deadpool is always wearing red and black, but this Funko POP figure has the Merc with a Mouth in a pleasing rainbow color palette.The figure reclines casually.
This fun colorful design features Loki in silhouette, wearing his iconic cape and headpiece, holding a staff. The unmistakable figure is colored in rainbow strips and captioned "LOKI PRIDE" in stylized diagonal letters.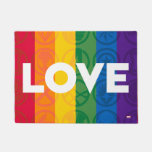 A repeating pattern of Avengers logos is presented in rainbow stripes. The word LOVE is written in white above the rainbow. This design is available from Zazzle on a variety of products; the popular doormat is shown here.
This simple rainbow design features the Avengers logo in rainbow stripes, along with the slogan Belong * Believe * Be Proud in stylized text in a circle around the logo.
More Marvel Pride Gear for June