Awesome Falcon & Winter Soldier Grunge Character Posters
Are you loving The Falcon and the Winter Soldier on Disney+? The series started a couple of weeks ago and we can't wait for each episode to drop every Friday. The action series is the second show in the same world as the MCU movies and WandaVision.
Zazzle has an official Falcon and Winter Solider shop with licensed t-shirts, posters, phone cases, and other novelties. We love these posters that have the same grunge style as the awesome show credits that roll at the end of each episode. The worn star posters feature our two heroes and others that we are looking forward to seeing soon. Check them out below.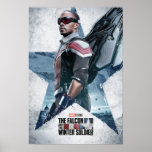 Sam's wearing his Falcon superhero uniform, complete with red goggles, on this awesome poster. His torso portrait profile image comes out of a worn five-point star.
This poster features Bucky as the Winter Soldier standing in partial profile within a star. His fists (both the natural and the cybernetic) are both clenched -- he looks ready for a fight!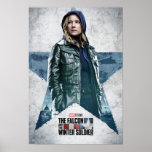 Agent Peggy Carter's niece, Sharon Carter, features on this grunge style poster. We haven't seen this former agent since Civil War so it will be exciting to see what she's been up to!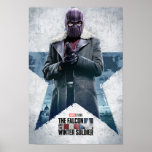 The baddie who was the root of all the problems the Avengers experienced back in Civil War is back! On this poster he's wearing a purple mask, which will look familiar to fans of the comic books.